Children's Ministry
For kids 6 weeks through 5th grade
GracePoint Children's Ministry
GracePoint is committed to our children. As we plan our lessons, prepare materials, and have fun in our programs, we pray that all of the kids hear the message of just how much God loves them!
Sunday Morning
When you check in, your child is assigned a safety number that correlates with a name tag that parents must present when picking up their child. You are also provided with labels to identify your child's belongings and a pager in case your child needs you. If you are a first-time visitor, you can expedite the check-in process by pre-registering your child(ren). Or, a greeter will be happy to help you with the check-in process.
The Lily Pad (6 weeks - 4 years old)
Care for our smallest GracePoint attenders is provided both hours on Sunday mornings. The Lily Pad has several rooms, divided by age groups. Frogs enjoy hearing biblical stories with strong faith lessons and playtime.
We have nursery and classes for ages 6 weeks – 4 years old in the Lily Pad during each service and the Sunday School hour.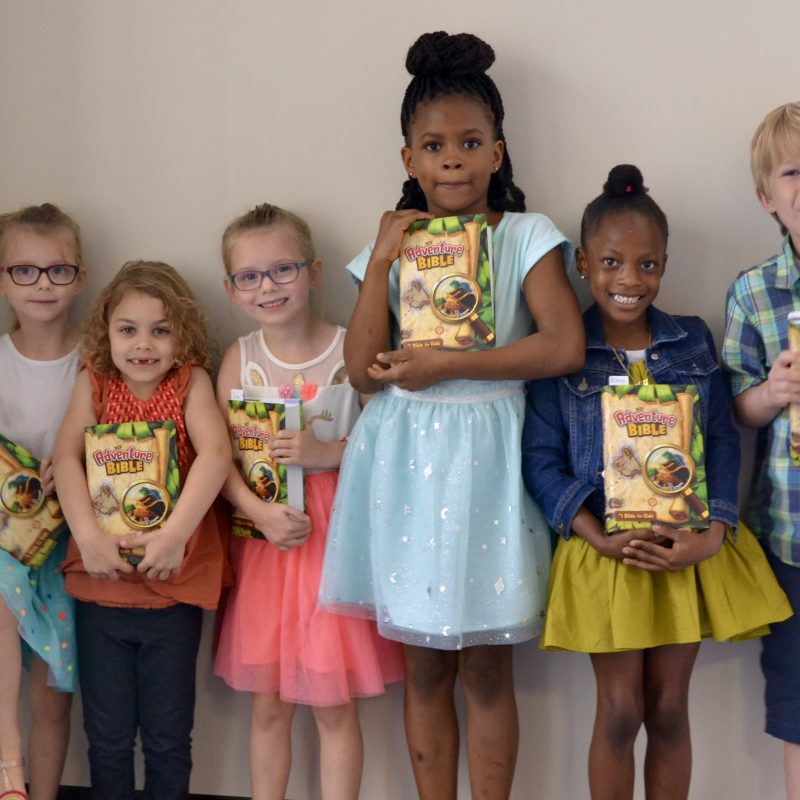 The Point (Pre-K through 5th Grade)
***Point Seekers and Sunday School takes a break for the summer. They resume on September 11!***
Point Seekers – 8:30 & 11:00 am Worship Services
Early-elementary age kids worship with their families in the sanctuary. Pre-K through 1st Grade are dismissed as the message begins for a separate time of learning from the Bible (Room 126/127).
Sunday School – 9:45am
Pre-K – 5th Grade begin in Room 124/128 for Bible On Location. After that opening time, they will move into their Sunday School rooms.
Room 120: Pre K
Room 121: Kindergarten and 1st Grade
Room 126/127: 2nd and 3rd
Room 122: 4th and 5th Grade
You can pick up your child at the end of the Sunday School hour from the above classrooms.
AWANA
AWANA helps churches and parents work together to develop spiritually strong children and youth who faithfully follow Jesus Christ. Our GracePoint programs offer a proven approach for evangelizing and disciplining kids in the church and community. All of our Wednesday night programs follow the same basic format. Kids experience a large-group teaching time, a small-group connection time, and of course, game time! Awana runs from October through April.
The Cubbies groups is geared toward our 3 year olds to kids in pre-Kindergarten. AWANA is fun with a purpose – to reach and train kids for Jesus Christ. Games, puppets, crafts, awards and other activities transform our preschool program into a lively weekly experience where fun and learning go hand in hand.
For our kids in Kindergarten to 2nd grade, we ramp up the fun and energy a little more to help kids connect with God and each other. The curriculum takes kids a step deeper into God's Word while giving boys and girls regular opportunities to hear the gospel and come to faith in Jesus Christ.
The name Truth & Training reflects the passion of AWANA to teach third- through sixth-grade boys and girls the truth of God's Word and to train them to follow Christ in their daily lives. T & T is a program for 3rd-5th grade where we will experience high-energy worship, fantastic Bible stories during large group, as well as a great time to connect during our small group!
Current & Upcoming Children's Activities
Volunteering
Our Children's Ministry volunteers are the reason our kids can encounter Jesus every time we gather. By keeping kids safe, by offering an encouraging word, and creating a fun atmosphere, our volunteers make GracePoint the place kids love to be. There are many volunteer roles you can take on. GracePoint Church makes every effort to provide a safe place for kids. Volunteers are required to have a current background check and complete training.